Price

RM149.90

RM349.90

Product SKU
T101988
Brand
TEFLON
Points Needed

34990

Availability
In Stock
Shipping Fee
Quantity
Description
Highlight
Professional quality
TEFLON non-stick coating on interior for quick clean up
Made of heavy-gauge aluminium for excellent heat conduction
Good strength and long lasting
PRODUCT FEATURES
Cook like a pro with this Teflon-coated non-stick aluminium frying pan. Built for durability and heavy duty usage. Suitable for home or commercial use.
Professional quality.
TEFLON non-stick coating on interior for quick clean up
Made of heavy-gauge aluminium for excellent heat conduction
Good strength and long lasting
SPECIFICATIONS
| | |
| --- | --- |
| Art No. | Dimension |
| FPT-12 | 25.0cm x 12.5cm x 2.0cm |
| FPT-20 | 36.0cm x 20.0cm x 2.5cm |
| FPT-24 | 43.0cm x 24.0cm x 3.0cm |
| FPT-26 | 51.0cm x 26.0cm x 3.5cm |
| FPT-30 | 60.0cm x 30.0cm x 4.0cm |
| FPT-32 | 63.0cm x 32.0cm x 4.5cm |
| FPT-36 | 69.0cm x 36.0cm x 5.0cm |
| FPT-40 | 74.0cm x 40.0cm x 5.5cm |
---
USE AND CARE INSTRUCTIONS
Remove anti-rust coating by washing the whole pan before use
Season with heated oil before use.
Use of metallic articles are not recommended
Do not leave acidic food in pans
Wash in hot water after each use.
Dishwasher safe.
Also Available:
TEFLON Non-Stick Frying Pan Aluminium - 12cm
TEFLON Non-Stick Frying Pan Aluminium - 20cm
TEFLON Non-Stick Frying Pan Aluminium - 24cm
TEFLON Non-Stick Frying Pan Aluminium - 26cm
TEFLON Non-Stick Frying Pan Aluminium - 30cm
TEFLON Non-Stick Frying Pan Aluminium - 32cm
TEFLON Non-Stick Frying Pan Aluminium - 36cm
TEFLON Non-Stick Frying Pan Aluminium - 40cm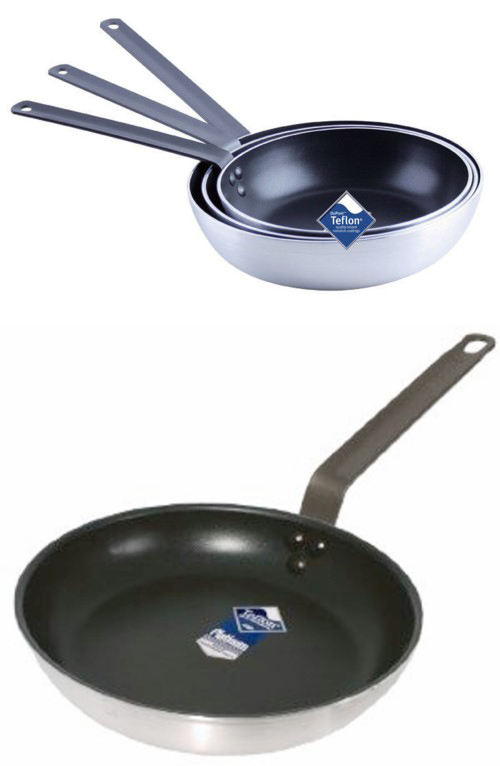 Reviews (0)
view all
back
What's in the box
1 x TEFLON Non-Stick Frying Pan Aluminium - 36cm